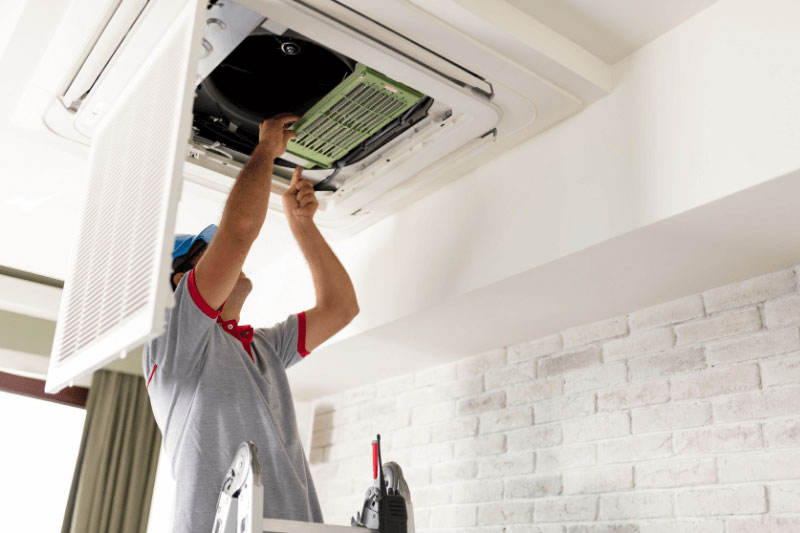 Is your air conditioning as energy efficient as it should be……….
What is it?
TM44 provides guidance on conducting air conditioning inspections based on the efficiency of each unit to satisfy the requirements of the Energy Performance of Buildings Directive. One of the key roles of the TM44 is to help any manager or building owner by providing further data on the efficiency of their system.
The Benefits
There are a multitude of benefits to having a TM44 inspection as it allows for an extensive data gathering source of utility costs. As well as this it offers an insight into:
Improvement in efficiency
Reduction of carbon emissions
Reduction of electricity consumption
Reduction of maintenance needs
Decreasing operating costs
Improvement of controls and settings
Identifying technical flaws
An energy efficient site will save more on maintenance and repair costs as well asl producing a lower energy consumption. This in turn helps contribute to saving the planet as well as lowering energy bills.
What it Requires from the Business
TM44 only focuses on air conditioning systems that use refrigerants for cooling, and parts of other cooling methods such as cooled decks/ceiling slabs or those that use aquifers for cooling.
In general, the TM44 is subject to any system that has a scale of 12kW. This includes either a single large-scale unit with an output of 12kW or individual units that together reach or exceed 12kW.
Current legislation states that all air conditioning systems with a cooling system over 12kW installed after January 2008 must be inspected within 5 years of being put into service. Then further inspections must be undertaken every 5 years. So, if any system of 12kW has not already been inspected they are currently breaching regulations and liable for a fine or further prosecution. These inspections should be done by an accredited TM44 energy assessor.
Penalties for non-compliance can result in a £300 fine per offence. If companies fail to supply a copy of a TM44 inspection report within seven days of a request by an enforcement authority, they can incur and additional fixed penalty of £200 per building or unit.
If you'd like to know more about how we can help you with your TM44 inspections please give us a call on 0113 531 1000 or email [email protected]