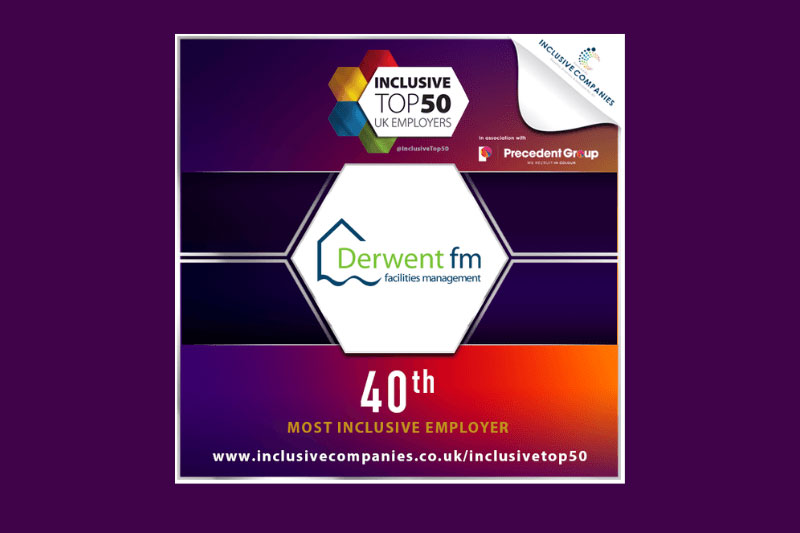 Derwent Facilities Management Ltd has been ranked 40th in The Inclusive Top 50 UK Employers List!
The long-awaited Inclusive Top 50 UK Employers Index published on December 02nd showcases leading organisations working across all strands of diversity.
IN RECOGNITION of their continued dedication to workplace diversity, Derwent fm has been ranked 40th in The Inclusive Top 50 UK Employers List – a definitive list of UK based organisations that promote inclusion across all protected characteristics, throughout each level of employment.
Now in its fifth year, the list has become the leading cross industry index harnessing best practice and innovation to drive inclusion for all. Announced through a virtual event, The Inclusive Top 50 UK Employers is a dynamic resource that has identified the most inclusive companies across the nation.
The disruption of Covid-19 followed by the impact of the Black Lives Matter Movement has prompted employers to adapt and highlighted those that are leading with inclusion at the forefront.
Ensuring individual voices are heard
"This year, more than any other, Inclusive Companies have seen a shift in the inclusion approach of organisations participating in the Inclusive Top 50 UK Employers List" said Founder and CEO, Paul Sesay. "Companies featured on this year's list have felt the importance of ensuring individual voices are heard and standing up as responsible employers against discrimination and inequality. Those who ranked are on a continuous journey but have made it their mission to advocate for inclusive workplaces where everyone feels empowered to be the very best they can be".
Derwent fm's position reflects the high standard to which they operate. As well as addressing areas of improvement, Derwent fm have developed and delivered high impact initiatives to actively implement solutions.
Compiled by a dedicated panel of judges, organisations featured have provided sufficient evidence on an amalgamation of topics including recruitment procedures, training and a host of diversity related initiatives. Demonstrating the promotion of all strands of diversity including age, disability, gender, LGBT, race, faith & religion; the list also focuses on representation at management, senior, executive and board level.
Derwent fm have been recognised for their continuous dedication to Diversity, Equality and Inclusion.
We are proud of our fantastic achievement
Alex Greenwood, Head of People and Culture at Derwent fm said '' I am delighted that Derwent fm have been recognised in the Inclusive Employer Top 50 at 40th place. This has been the first year Derwent fm have become members of Inclusive Employers and we are proud of this fantastic achievement.We are still on a journey to look at how we can improve our inclusive approach and I am excited to be part of this. By having this conscious focus on Inclusivity, we are seeing a positive culture shift where our people can be their authentic self at work. Our SPIRIT values are the bedrock of supporting this approach and drives us to be more innovative''
Professor Amanda Kirby, Inclusive Top 50 UK Employers Judge and CEO of Do-IT Solutions, said "This was an incredible opportunity to gain an insight into a number of companies across the UK who are taking the concepts of diversity and inclusion in the workplace and are demonstrating inclusive practice in a variety of ways. Some of the leaders in the UK are doing some amazing 'outward facing work' reaching communities and making a tangible difference to the lives of their customers and supply chain. It is exciting to see a few excellent companies who are truly going one step further and delivering intersectional and integrated inclusive people-centred approaches and they should be rightly proud of the work they are doing."
Dr. Bījna Dasanī, FRSA, Head of Architecture and Innovation, Lloyd's Banking Group and Inclusive Companies Board Member said, "The Inclusive Top 50 UK Employers List is effectively a benchmark highlighting organisations who are an inclusive employer in its entirety. For others it's a model example of how to shift modes in the Inclusion arena, from survive, to thrive!"
Jiten Patel, Conscious Inclusion Specialist and IT50 judge said "This year, the world was rocked by Covid19 and the senseless killing of George Floyd.  Companies are talking about Diversity and inclusion more than ever and, of course, it is great to recognise those that are really creating culture change".
To view the full list of Inclusive Employers, please visit https://www.inclusivecompanies.co.uk/inclusivetop50/2020rankings/
Twitter: @inclusivetop50