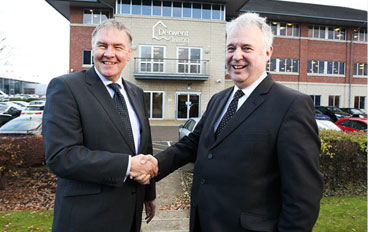 Derwent Living (Derwent fm's parent organisation) has officially joined the Places for People Group as a subsidiary organisation. The move will see the group become one of the UK's largest property management organisations with a portfolio of more than 182,000 homes across the country.

Derwent Living, which owns and manages around 30,000 properties through its affordable and commercial businesses, will maintain its own independent identity, local offices, management team and operational structure.
Through partnering with Derwent Living, Places for People has gained an established foothold in the student housing market, a new operational base in the East Midlands, and an additional resource through the skills and experience of Derwent Living's employees.
Peter McCormack, Chief Executive of Derwent Living, said: "For more than 50 years, Derwent Living has been providing homes for people across the Midlands and beyond, with a clear focus on affordability, and delivering a range of housing tenures to meet local need.
"The opportunity to enhance and expand our services in partnership with such a pioneering housing provider was truly unmissable. We are genuinely excited about the future for Derwent Living, with the additional expertise and financial power on offer as a member of the Places for People Group.
"Joining Places for People offers our staff and customers the best of both worlds; allowing our services and identity to remain tailored to our local communities, while benefitting from the financial security, economies of scale and opportunities that come from being part of a larger organisation."
David Cowans, Group Chief Executive at Places for People said: "From the outset of our discussions, it became clear that one of Derwent Living's greatest assets was its people and their working culture – which shares many similarities with our own. We look forward to welcoming the knowledge and expertise of Derwent Living's employees to group projects across the UK.
"Student housing represented the last significant area of the housing market in which Places for People was not playing a major role. Gaining a partner with such a strong reputation in this area has completed the jigsaw, allowing us to offer tailored accommodation to people at all stages of their lives.
"The addition of Derwent Living will not only provide a new operational base in the East Midlands, it will also enable the group to rationalise its housing stock in the region, in order to deliver greater efficiencies that ultimately improves local services."